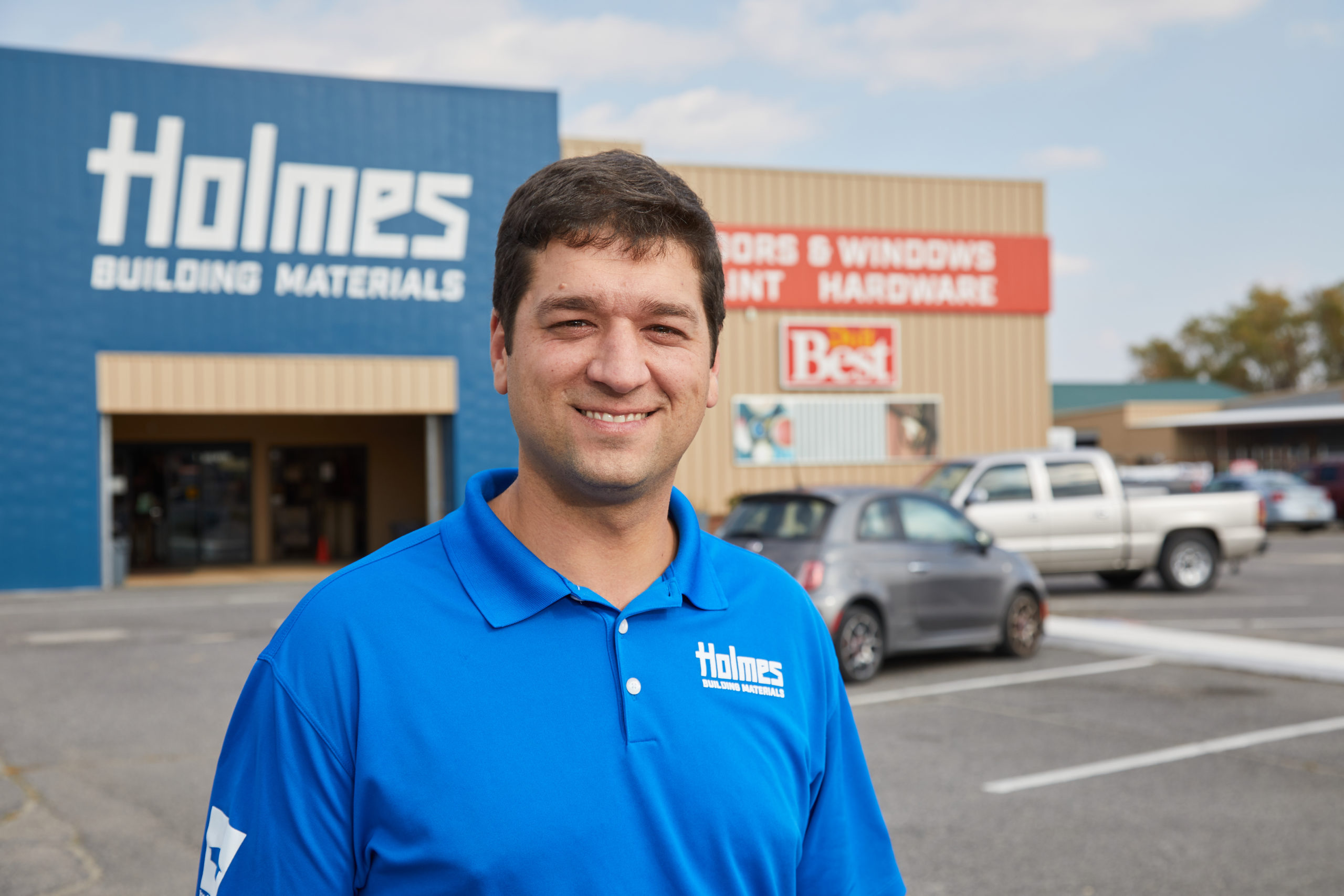 Matthew Holmes named 2020 Young Retailer of the Year
Matthew Holmes, owner of Holmes Building Materials in Baton Rouge, Louisiana, was recently named one of the independent hardware industry's seven 2020 Young Retailer of the Year honorees by the North American Retail Hardware Association (NRHA).
The Young Retailer of the Year program, now in its 24th year, identifies and promotes the next generation of aspiring independent home improvement retailers. It recognizes individual achievement by industry retailers age 35 and younger throughout the U.S. and Canada. Selected from three separate retail categories, honorees are chosen based on a number of criteria, including professional milestones, community engagement, continuing hardware industry education, and extracurricular activities. Sponsors of the 2020 Young Retailer of the Year program include Arrow Fastener, Epicor, Fluidmaster, Intertape Polymer Group, Midwest Fastener, MiTek, and Pony Jorgensen.
As the fourth-generation owner of Holmes Building Materials in Baton Rouge, Louisiana, Matthew Holmes got his start like many others in the industry—by sweeping floors and stocking shelves in the family business. By high school, Matthew was working part-time at the store. He attended college locally at Louisiana State University, majoring in construction management with a minor in business. 
Matthew completed estimates for Holmes Building Materials while studying full time, but his father, John, had always wanted him to work outside the family business to get more exposure to the industry as a whole. So Matthew worked during the summers for other companies, and after college, he spent several years at a large custom homebuilder.
In 2011, Holmes and his wife moved back to Baton Rouge to be near family. For Matthew, it meant more than just a return to the family business. He came back to Holmes Building Materials with the aim to eventually succeed his father in the leadership and ownership role. But Matthew knew he had to prove himself to everyone in the company first, and he quickly put his experience to work as an outside salesperson working with contractors. 
Matthew's experience as a contractor allowed him to anticipate what his customers needed. After nearly three years on the sales team, Matthew averaged $400,000 in gross sales per month. Sales at Holmes increased 25 percent in 2012 and another 14 percent in 2013. Matthew was then promoted in early 2014 to operations manager for Holmes Building Materials.
Matthew's thorough research and redesign of the Holmes Contractor Services warehouse space paid off with huge gains in efficiency and sales. They were able to manufacture about 30-40 doors in their old facility, but Matthew's redesigned space delivered 100 doors each day.
Matthew next turned his focus to gaining more exposure from local contractors in Baton Rouge. Their two retail locations in Baton Rouge and Denham Springs were the only way to showcase the windows and doors, and space in each store was limited. Matthew also wanted a presence in the more affluent part of town to tap into the housing market in that area. 
After careful research, Matthew located a 2,400-square-foot retail space on a busy street in southern Baton Rouge. He transformed the space into a showroom called Holmes Windows, Doors, and More. After it opened in March 2015, the showroom had an immediate impact on the business' success. The last half of 2015 saw sales for Holmes Contractor Sales increase by 60 percent, with sales topping $800,000 per month. In January 2016, Matthew opened another showroom in Baton Rouge's north side. 
Then, on Aug. 11, 2016, a complex thunderstorm system flared up in southern Louisiana, resulting in constant torrential downpours in the Baton Rouge area. A total of 28 inches fell in less than two days. The day the flooding started, Matthew sprang into action. He knew there would be a huge demand for essential rebuilding items like insulation, drywall, doors, and trim. 
In the aftermath, Holmes Building Materials also partnered with vendors to donate building materials such as insulation, drywall, and doors to rebuild 32 homes for needy residents. They worked with local charitable groups to identify elderly homeowners in the most need. The store also matched each dollar that was donated to the cause.  Once rebuilding efforts in town got to a manageable level, Matthew was able to resume the rebranding efforts he had put on hold. In the summer of 2017, Holmes Building Materials launched its new website and logo. 
While John had been stepping back from the business as a part of his succession plan with Matthew, a new location for their Baton Rouge store became the clear turning point of their leadership transition. Matthew took full control of the new store, which opened in June 2017. Customers have responded with overwhelming enthusiasm and sales have increased by $18.6 million, an amazing 126 percent growth. John retired at the end of 2018, and Matthew took over as president of the company. The process of ownership transition is in progress and will be completed in a few years.
Matthew also devotes his time and energy toward service in his community. Matthew and his family are parishioners at Our Lady of Mercy Church, where he volunteers his time at events while helping out with improvements needed around the facility. Matthew also involves his employees to help guide the causes Holmes supports. 
"Each year we talk to them and see what charitable organizations they are involved in, and if it's important to them, it is important to us," he says. "We will make donations, provide materials, or volunteer our time to those organizations." 
At Christmas, Matthew surveys his employees to get information about families they know who are in need. The Holmes team puts together a package for a few dozen families annually. Each October during Breast Cancer Awareness Month, the company holds two bake sales and two cookouts to raise money. Since Matthew is heavily involved in the Home Builders Association, he coordinates Holmes' participation in the annual Dream Home Auction. The homes that have been built so far with this program have raised more than $20 million for St. Jude Children's Hospital and Our Lady of the Lake Children's Hospital. 
A few years ago, Matthew stepped in to help save the local Salvation Army's Angel Tree program when an accident damaged the building the Salvation Army used to sort and store all the donations. A local TV station shared their story, and Matthew called the next day to offer their old Baton Rouge location as a staging area for the annual campaign. 
Matthew also uses the old facility to benefit the Baton Rouge Soldiers Outreach, a nonprofit organization that collects comfort items for care packages to send to US military service members who are currently deployed around the globe.  Children, the military, and the elderly are the areas where Holmes especially concentrates their charitable efforts. 
Since Matthew's return in 2011, sales at Holmes Building Materials have doubled to more than $48.2 million. Matthew has already carved out his own legacy at the family business, and he will be making his mark in the industry—and his community—for many years to come.
"To be chosen as a Young Retailer of the Year is a tremendous honor. Every year, manufacturers, retailers, and wholesalers all anticipate celebrating the impressive accomplishments of the honorees," says Scott Wright, executive director of the NRHA Retail Leadership Institute. "Matthew truly demonstrates the type of ambition and innovation that will continue moving our industry forward."
For more information on the awards program, honorees, and more, visit nrha.org/yroty or contact Scott Wright at swright@nrha.org or 317.275.9417.
About the North American Retail Hardware Association
Founded in 1900 by a group of retailers, NRHA is a not-for-profit trade association whose mission is to help hardware stores, home centers and lumberyards in the US and Canada become better and more profitable retailers. Governed by a board of independent hardware retailers, NRHA fulfills its mission by providing information, communication, training programs, and networking opportunities for the industry it serves. Each month, NRHA publishes Hardware Retailing magazine, which reaches approximately 35,000 home improvement industry professionals. NRHA also provides a wealth of online training and educational resources to thousands of retailers at nrha.org.
---
About Do it Best Corp.
Based in Fort Wayne, Ind., Do it Best Corp. is the only U.S.-based, member-owned comprehensive and fully integrated hardware, lumber and building materials buying cooperative in the home improvement industry. With annual sales nearing $4 billion, Do it Best Corp. serves thousands of member-owned locations across the United States and in more than 50 other countries. For more information, visit doit​bestonline.com and follow us on Facebook, LinkedIn, and Twitter.
For more information:
Alex Wulpi, Ferguson Advertising
260.426.4401
alex@fai2.com