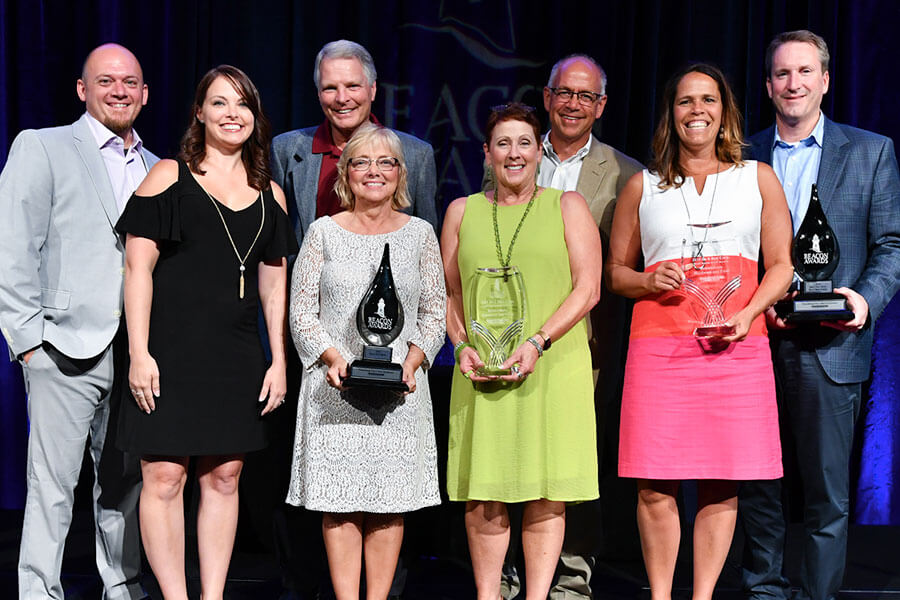 Do it Best Members Honored at Beacon Awards
FORT WAYNE, IN – Two Do it Best member-owners were recognized as part of the 2019 Beacon Awards, a premier national industry awards program developed to recognize the best of the best independent hardware/home improvement retailers, at the recent Hardware Conference.
Jim Lehrer, owner of Brownsboro Hardware & Paint in Louisville, KY, was honored with the Retail Beacon Award in recognition of his years of service and success in the industry. In addition, Petersburg Do it Best Hardware in Petersburg, IN, earned recognition in the Best New Store category.
Born and raised in Wisconsin, Lehrer showed an entrepreneurial aptitude at an early age by cutting people's lawns. His meticulous attention to detail caught the eye of a neighbor who hired the teenager to mow the grass at his nearby lumberyard. Soon he earned a role on the sales floor and continued to work summers while in college.
In 1998, after working to establish himself as an award-winning field sales representative and co-op leader, Lehrer bought a floundering hardware store five miles east of Louisville. It was, as he says, an all-in moment – he and his wife Marilyn took everything they had, including their retirement savings, to buy the business.
Twenty years later, Lehrer's all-in approach has more than paid off. Brownsboro Hardware & Paint has two locations with 39 employees and nearly $5 million in sales. That success should come as no surprise – Brownsboro Hardware & Paint is routinely ranked #1 in regional magazine, newspaper, and TV lists as the area's best hardware store.
Lehrer is also dedicated to giving back to the community. The store's annual EGGFest has generated $110,000 in just the last five years to support two hunger-based charities in the greater Louisville area. The event has also been featured on the TV series Secrets of Bluegrass Chefs.
For Petersburg Do it Best Hardware co-owners Dennis and Sherry Bishop and Eric and Robin Smith, the family's journey began almost 25 years ago with a small neighborhood store housed in an attractive brick building on Main Street. Revenues, while good, had stalled by 2014. The Bishops' daughter, Robin Smith, and son-in-law, Eric, both successful entrepreneurs, began expressing their interest in becoming part of the store's long-term plans. The Smiths recognized the need for growth and were thrilled at the prospect of joining the family business to make an impact.
Over the next two years, the four collaborated and brainstormed, which led to securing a new location with an unusual twist – they would move in to a much larger building recently closed by a faltering big box retailer. The new location fit the need for space—28,000 square feet—and is situated near a major interstate.
Lehrer, the Bishops and the Smiths were all recognized for their achievement on August 16 at The Hardware Conference in Marco Island, FL.
"These Do it Best member-owners represent the very best of our industry and what it means to be an independent retailer," said Dan Starr, president and CEO of Do it Best Corp. "While their paths to success are unique, their vision, dedication and commitment to community are the common building blocks upon which this recognition was built – and is so richly deserved."
The Beacon Awards is a premier national industry awards program developed by The Hardware Connection magazine and The Hardware Conference to recognize the best of the best among home improvement retailers, while encouraging a new generation of retailers to make their mark.
Profiles of the Beacon Awards winners are featured in the September/October 2019 issue of The Hardware Connection magazine. For more information on the Beacon Awards, go to www.thehardwareconnection.com.
---
About Do it Best Corp.
Based in Fort Wayne, Ind., Do it Best Corp. is the only US-based, member-owned comprehensive and fully integrated hardware, lumber, and building materials buying cooperative in the home improvement industry. With annual sales surpassing $4 billion, Do it Best Corp. serves thousands of member-owned locations across the United States and in more than 50 other countries. For more information, visit doit​bestonline.com and follow us on Facebook, LinkedIn, and Twitter.
For more information:
Laura Colar, Ferguson Advertising
260.426.4401
laura@fai2.com