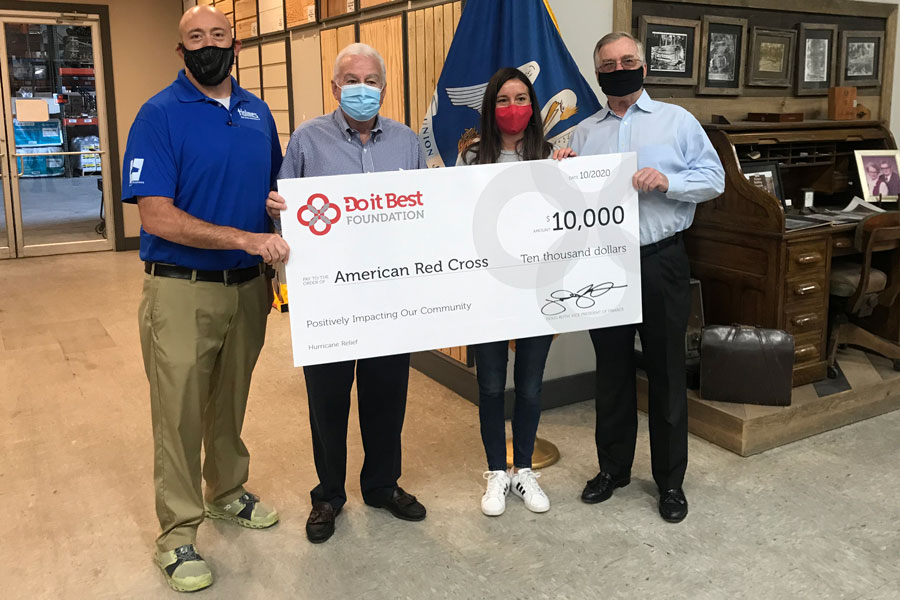 Do it Best Foundation supports American Red Cross relief efforts
FORT WAYNE, IN — The Do it Best Foundation announced the awarding of two $10,000 grants to American Red Cross chapters in Louisiana and Oregon. These donations will help provide food, shelter, recovery planning, and more to those whose lives have been upended by natural disasters in each region. 
"These gifts are a representation of our commitment to our communities," said Rich Lynch, president of the Do it Best Foundation. "We're proud to partner with the American Red Cross and their recovery efforts in areas hard-hit by hurricanes and wildfires."
Mark Hester, general manager of the Do it Best distribution center in Woodburn, OR, presented a grant to Dianne Mekkers, American Red Cross emergency management liaison lead. In Louisiana, a grant was presented to Emily Sparks, American Red Cross regional philanthropy officer, and Board Member Regi Mullins by Holmes Building Materials General Manager Ben Canady, representing Do it Best member-owners, and Roy Jones, a Do it Best territory sales manager.
About the Do it Best Foundation
Launched in 2019, the Do it Best Foundation supports community organizations and not-for-profit agencies that are committed to serving the needs of others. The Foundation maintains four focus areas engineered towards maximum impact in our communities: Health & Wellness, Youth Enrichment, the Arts, and the Community, and awards grants to nonprofit organizations that align with these focus areas. For more information, to submit a grant application, or to make a financial gift of support, visit doitbestfoundation.org.
---
About Do it Best Corp.
Based in Fort Wayne, Ind., Do it Best Corp. is the only U.S.-based, member-owned comprehensive and fully integrated hardware, lumber and building materials buying cooperative in the home improvement industry. With annual sales nearing $4 billion, Do it Best Corp. serves thousands of member-owned locations across the United States and in more than 50 other countries. For more information, visit doit​bestonline.com and follow us on Facebook, LinkedIn, and Twitter.
For more information:
Alex Wulpi, Ferguson Advertising
260.426.4401
alex@fai2.com