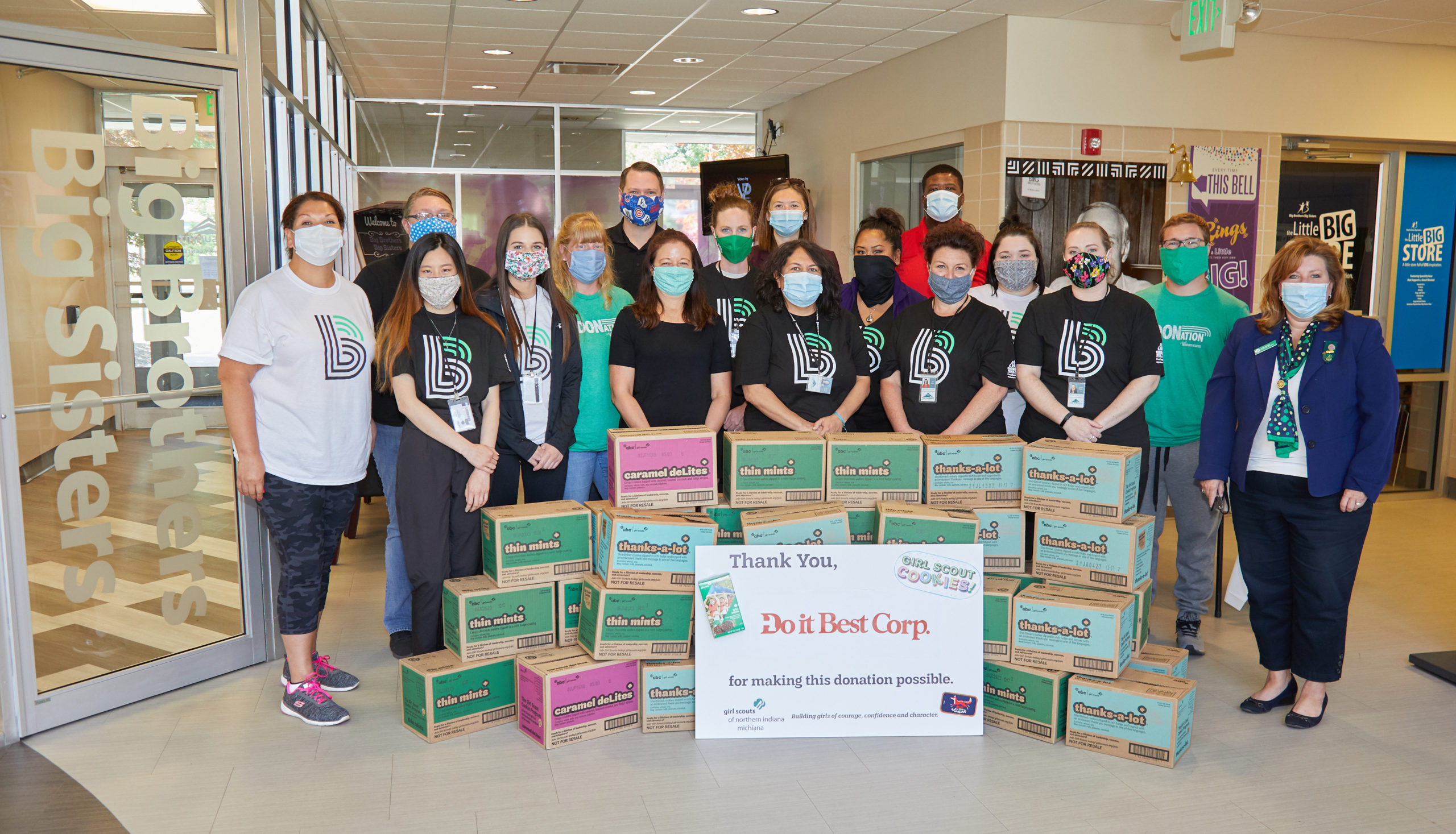 Do it Best sponsors 900 boxes of cookies from local Girl Scouts
FORT WAYNE, IN – Do it Best is proud to announce the sponsorship of 900 boxes of cookies from the Girl Scouts of Northern Indiana & Michiana. Half of these boxes were shared with the employees at their world headquarters, while Big Brothers Big Sisters of Northeast Indiana received the remaining 450 as a donation from the company. This will help the Girl Scouts offset the impact of the pandemic when they were prevented from selling cookies in-person. 
"This sponsorship is such a blessing to the Girl Scouts," said Tammy Oakes, Chief Officer, Fund Development and Marketing for GSNIM. "We were heartbroken when we realized the girls wouldn't be able to set up their booths this year as planned. The Do it Best Cookie Sponsorship makes a significant impact by helping to pay for memberships, uniforms, outreach opportunities, and all sorts of projects the girls want to do in the community."
In late March, the Girl Scouts of the USA launched Cookie Care, a digital platform designed to replicate the traditional Girl Scout Cookie Program as closely as possible during the height of the pandemic. Previously, Girl Scouts were able to sell cookies online, but consumers had to know a Girl Scout to make a purchase. The Cookie Care program enabled communities throughout the US to support Girl Scout troops in their local councils. GSNI-M's Corporate Cookie Sponsorship now enables members of the community to continue helping Girls Scouts in our area now that the Cookie Care program has ended.
"This is a win-win for everyone," said Rich Lynch, Vice President of Marketing at Do it Best. "Our team can enjoy some of those popular cookies, we get to support the Girl Scouts of Northern Indiana & Michiana, and we can continue our long-standing relationship with Big Brothers Big Sisters, an organization championed by the late Don Wolf." 
Do it Best has been a supporter of Big Brothers Big Sisters of Northeast Indiana for decades. Most recently, Do it Best led a fundraising initiative that collected over $223,000 for BBBS in honor of former company CEO Don Wolf, who passed away in September 2019. 
The cookies were delivered to Big Brothers Big Sisters on Tuesday, June 23. Images from the event can be found here.
---
About Do it Best Corp.
Based in Fort Wayne, Ind., Do it Best Corp. is the only U.S.-based, member-owned comprehensive and fully integrated hardware, lumber and building materials buying cooperative in the home improvement industry. With annual sales nearing $4 billion, Do it Best Corp. serves thousands of member-owned locations across the United States and in more than 50 other countries. For more information, visit doit​bestonline.com and follow us on Facebook, LinkedIn, and Twitter.
For more information:
Alex Wulpi, Ferguson Advertising
260.426.4401
alex@fai2.com