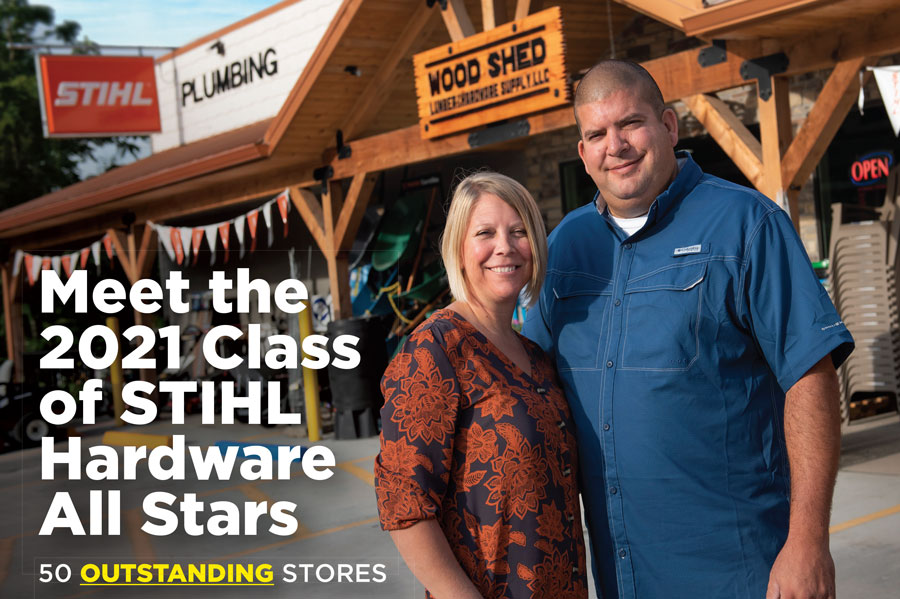 Do it Best members lead Hardware All Star awards
We salute these 20 Do it Best member-owned home improvement businesses selected as HBSDealer Hardware All Stars for 2021.
Read the full story in HBSDealer.
Arab Lumber & Supply in Arab, Alabama
Arrowhead Hardware in Baldwin City, Kansas
Beaver Hardware in Beaver Crossing, Nebraska
Billings Hardware in Billings, Montana
Cavalier Do it Best Home & Lumber in Cavalier, North Dakota
Chet's Hardware in Avalon, California
Circle B Irrigation in Hyde Park, Utah
Fernley Big R in Fernley, Nevada
Hemly Hardware in Thompson, Ohio
Landrum Hardware in Landrum, South Carolina
Maycrest Hardware in Savannah, Georgia
Mountain View Home & Hardware in King, North Carolina
Mt. Pleasant Hardware in Providence, Rhode Island
PC Home Center in New Albany, Indiana
Schauer's Hardware in Forest Park, Illinois
Tanis Hardware in Haledon, New Jersey
Thomas Hardware Do it Center® in Point Pleasant, West Virginia
Village Hardware in Hatch, New Mexico
Wenner Do it Best® Hardware & Rental in Cold Spring, Minnesota
Wood Shed Lumber & Hardware Supply in Carrollton, Missouri
---
About Do it Best
Based in Fort Wayne, IN, Do it Best is the only US-based, member-owned comprehensive and fully integrated hardware, lumber, and building materials buying cooperative in the home improvement industry. With annual sales surpassing $5 billion, Do it Best serves thousands of member-owned locations across the United States and in more than 50 other countries. For more information, visit doitbestonline.com and follow us on Facebook, Instagram, LinkedIn, and Twitter.
For more information:
Taylor Feighner, Ferguson Advertising
260.428.1174
taylor@fai2.com