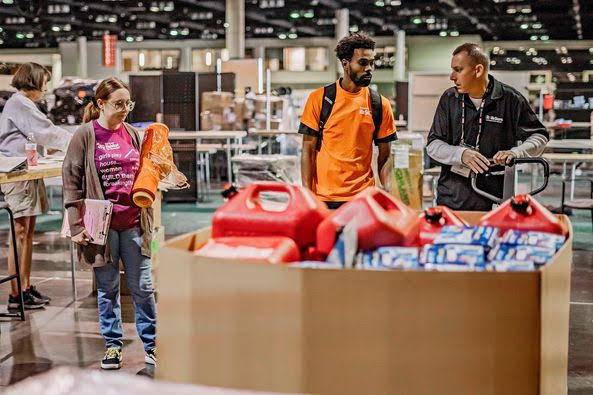 Do it Best provides $1 million in goods to Habitat for Humanity
Do it Best continues its history of support for Habitat for Humanity, coordinating the record donation of nearly $1 million in home improvement products to the West Orange Habitat for Humanity in Orlando, Florida.
"Our semi-annual markets are huge events that draw thousands of vendors and Do it Best members as they explore new products to sell in their stores," said Rich Lynch, vice president of marketing. "And when it's done, we encourage our vendors to donate their product displays through our partnership with Habitat. With our first-ever spring market in Orlando, we reached out to the West Orange ReStore branch to continue the tradition."
In all, more than $986,000 worth of products were given to Habitat. The eight semi trailers of merchandise included household goods, hand and power tools, plumbing and electrical, lighting, patio furniture, and much more. The donation will fund the building of several complete houses in West Orange County. 
"I cannot say it enough how much we appreciate your support for our community," said David Burgard, Habitat for Humanity manager. "We consider it an honor and pleasure to have worked with Do it Best at their spring market this year."
About West Orange Habitat for Humanity
West Orange Habitat for Humanity brings people together to build homes, communities, and hope. As the top nonprofit homebuilder in the West Orange Community, the organization has partnered with volunteers, donors, and Habitat homeowners to build, renovate and repair many homes. The lives of hundreds of individuals have been transformed as a result of having a decent and affordable place to call home. Habitat homeowners demonstrate a housing need, contribute sweat equity hours, and agree to repay a no-interest mortgage. Support of West Orange Habitat for Humanity includes volunteerism, donations, and advocacy for affordable housing.
---
About Do it Best
Based in Fort Wayne, IN, Do it Best is the only US-based, member-owned comprehensive and fully integrated hardware, lumber, and building materials buying cooperative in the home improvement industry. With annual sales surpassing $5 billion, Do it Best serves thousands of member-owned locations across the United States and in more than 50 other countries. For more information, visit doitbestonline.com and follow us on Facebook, Instagram, LinkedIn, and Twitter.
For more information:
Taylor Feighner, Ferguson Advertising
260.428.1174
taylor@fai2.com