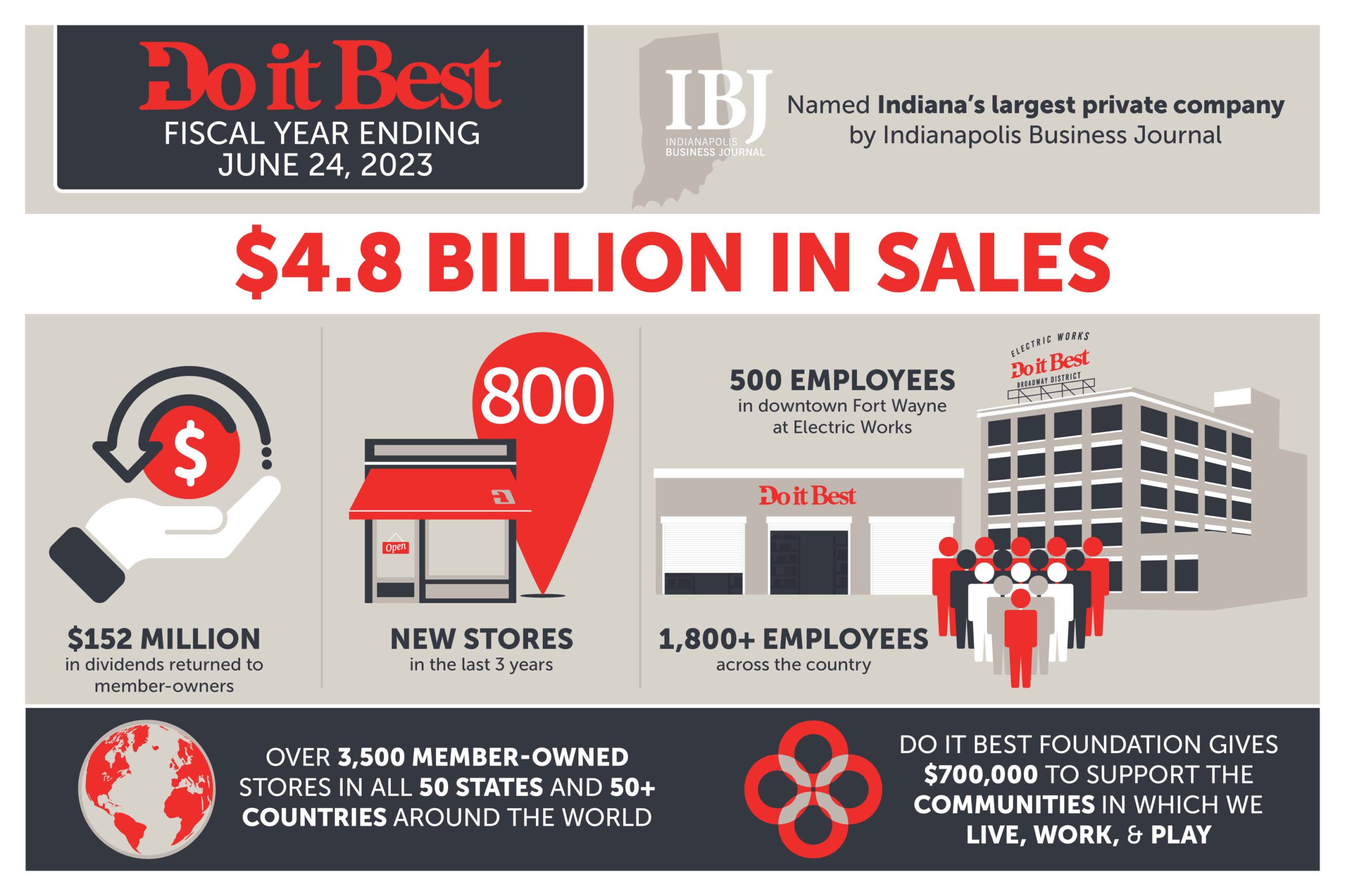 Do it Best reports $4.8 billion in sales for 2023 fiscal year
Do it Best, Indiana's largest privately held company, reported $4.8 billion in sales for the fiscal year ended June 24, 2023. This builds on three consecutive years of record growth. In the last three years alone, the company has welcomed nearly 800 new locations to the cooperative. This year, Do it Best was once again named Indiana's largest privately held company by Indianapolis Business Journal.
Supporting locally-owned and independent hardware stores, homecenters, and lumber yards around the world, Do it Best partners with thousands of businesses to provide products and solutions so they can continue making an impact in the communities they serve. "We do this through the annual dividend rebate we provide. This year we are delivering the second highest rebate in our history, returning $152 million to our member-owners," said Do it Best President and CEO Dan Starr. "This is just one way we're investing in the continued growth and success of our members' independent businesses and their communities."
In 2022, Do it Best invested in a new global headquarters on the Electric Works campus in downtown Fort Wayne, Ind. The move was driven to attract and retain top talent in order to continue serving their member-owners.
"Do it Best was founded on a unique culture of servant leadership with an emphasis on innovation and collaboration, and the Electric Works campus allows our team to more effectively foster relationships between our staff and with members, vendors, and partners," said Starr. "Our facilities reflect the culture we've always had, and they provide our growing team with the flexible workstations and collaborative spaces necessary to perform most productively."
Along with moving to Electric Works, the company has continued to build on its great culture by giving back to the community. In 2020, Do it Best launched the Do it Best Foundation. The Foundation supports not-for-profit community organizations committed to serving the needs of others in Fort Wayne and in the eight other communities around the country where it has distribution centers. Having donated more than $700,000 in charitable grants to date, the Foundation is committed to positively impacting the organizations and initiatives that support health and wellness, youth enrichment, the arts, and the community.
"Do it Best has given to the communities it serves for nearly 80 years, and the Do it Best Foundation provides a clear process and ensures we're making the maximum impact possible. Our belief in serving others as we would like to be served also guides us to help those who need it most," said Do it Best Community Affairs Manager Randy Rusk.
Starr said the company is positioned for further success in the next fiscal year: "Having wrapped up a profitable fiscal year, it's an exciting time of year full of possibilities ahead for our co-op. We're continuing to invest in technology that drives our distribution excellence, as well as a new ecommerce platform and meaningful online content, driving online and in-store sales for our members. We will continue investing in our team and our communities and look forward to another strong year ahead."
---
About Do it Best
Based in Fort Wayne, IN, Do it Best is the only US-based, member-owned comprehensive and fully integrated hardware, lumber, and building materials buying cooperative in the home improvement industry. With annual sales surpassing $5 billion, Do it Best serves thousands of member-owned locations across the United States and in more than 50 other countries. For more information, visit doitbestonline.com and follow us on Facebook, Instagram, LinkedIn, and Twitter.
For more information:
Taylor Feighner, Ferguson Advertising
260.428.1174
taylor@fai2.com