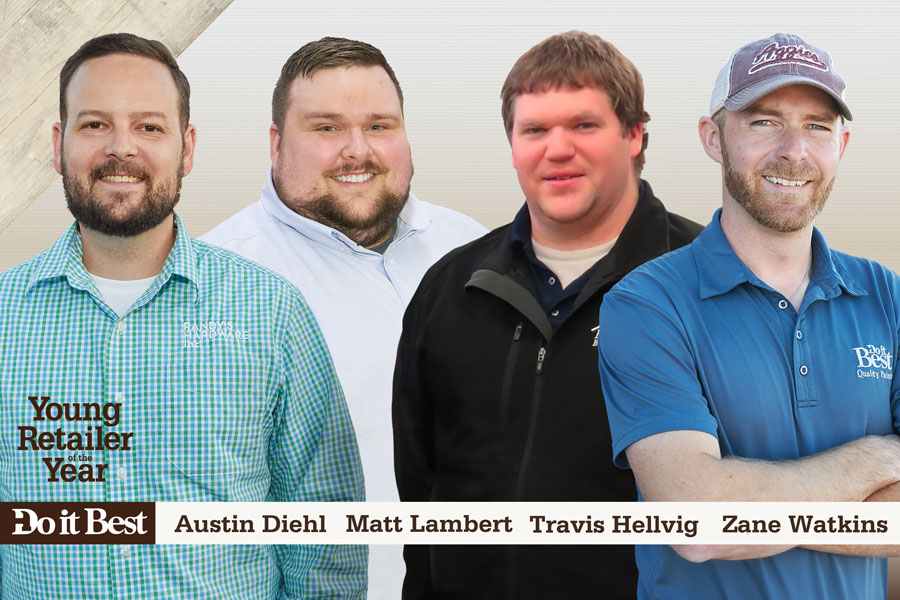 Four members win Young Retailer of the Year honors
The North American Hardware & Paint Association announced their 2023 Young Retailer of the Year winners. The Young Retailer of the Year program highlights the skills and success of the next generation of independent home improvement leaders. This year, 4 Do it Best members were among the 11 honorees. Congratulations to Autin, Matt, Travis, and Zane on their well-deserved recognition!
Austin Diehl
Director of Retail Operations
Randy's Hardware, 4 stores in Virginia
Category: Multi-store retailers
As Owner Christian Herrick–himself a former Young Retailer winner–will testify, Austin has made a huge impact at Randy's by analyzing their labor costs, which were nearly double what they should be. Austin used the Cost of Doing Business Study to bring their labor budget in line with industry best practices, which enabled them to have the cash flow for expansion, doubling their store count from two to four. He recently relocated and reopened a location in record time that burned down earlier this year.
Matt Lambert
National Operations Manager
Nation's Best, 37 locations nationwide
Category: Multi-store retailers
Matt quickly caught the attention of a previous Young Retailer winner, Chris Miller. When Matt's parents decided to sell their business to Nation's Best, Matt took over as the sole store manager for Nation's Best's first acquired location and grew revenue significantly. His leadership was quickly recognized, and he joined the Nation's Best core team as Operations Leader for all their locations. As the company has continued to grow, Matt's impact and influence on the business grew as well. In July 2022, Matt was promoted to National Operations Manager where he continues to develop leaders and grow the business.
Travis Hellvig
Operations Manager
Hartford Building Center
, Hartford, South Dakota
Category: Over $3 million in annual sales
Travis is only the second honoree to win this award twice. However, he is no stranger to overcoming challenges. Travis took on a leadership role when his father experienced health issues in 2013. In 2019, his vision for growth became reality with the groundbreaking of a 6,400-square-foot expansion, including 2,400 square feet of additional retail floor space and a showroom, contractor sales offices, and conference room. Thanks to Travis' work and vision, 2022 ended as the most profitable year the operation had ever seen.
Zane Watkins
Co-owner & General Manager
Village Hardware, Hatch, New Mexico
Category: Under $3 million in annual sales
Zane has been involved in the hardware business his entire adult life. He worked at his family's store until they sold it in 2013. After that, Zane was hired by a local entrepreneur to oversee the opening of another hardware store in Hatch. Zane was tasked with store design, merchandising, and helping train staff. In 2017, the Watkins family bought back their original store and Zane returned to run the newly named Village Hardware. Under his management sales increased by over 50% in the first four years, earning the store recognition as a 2021 Hardware All Star for New Mexico.
---
About Do it Best
Based in Fort Wayne, IN, Do it Best is the only US-based, member-owned comprehensive and fully integrated hardware, lumber, and building materials buying cooperative in the home improvement industry. With annual sales surpassing $5 billion, Do it Best serves thousands of member-owned locations across the United States and in more than 50 other countries. For more information, visit doitbestonline.com and follow us on Facebook, Instagram, LinkedIn, and Twitter.
For more information:
Taylor Feighner, Ferguson Advertising
260.428.1174
taylor@fai2.com